Cosmo Gruppo
Cosmo Group is a company located in Noale, near Venice. It was established sixty years ago and today is a leader in the sector of major infrastructure projects and waste management. It employs about 150 employees and operates through five companies of the group: Cosmo Scavi srl, Cosmo Tecnologie ambientali srl, Cosmo Energia, CSR srl (Chemistry and geotechnical laboratory) , Hexa Green.In its customer portfolio Cosmo Group counts public bodies and private companies, renowned customers for whom it has created important projects such as the Mestre highway section, Venice Marco Polo Airport, the third lane of the A4 Venice-Trieste highway, the logistics platform in the Port of Trieste, the "All'Angelo" hospital in Mestre.
The plant, located in via Mestrina, consists of 160,000 square meters of technological systems for the treatment, disposal and recovery of special and industrial waste with an average recovery rate of 60%. The production cycles take place in the covered area where, thanks to the most advanced technologies, each cycle is optimized, ensuring maximum safety.
In recent years, Cosmo Group has distinguished itself for the strong input given to the dissemination of clean and sustainable technologies. It has installed a photovoltaic system in its plant in Noale that generates a maximum power of 840 kWp and covers about 35% of internal needs. Clean energy, such as that produced by the biomass plant, another 995 kw entirely given to the power grid.
Thanks to an Environmental Management system, Cosmo Group evaluates and monitors each activity and internal process, rationalizing the service delivery and management phases, in accordance with the regulations. Since 2014 it has adopted the model 231: an External Supervisory Body that monitors that the work of the companies complies with the stated principles. Endowed with all the latest certifications, Cosmo Group pursues the safety and quality objectives through an all-female team.
In more recent years, Cosmo Group has launched several projects concerning the corporate social responsibility.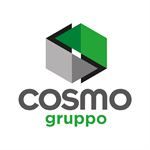 Contacts:
Via Feltrin 123/125
30033 Noale (VE) - Italy
Tel. +39 041 5801616

Operational headquarters:
Via Mestrina 46/X
30033 Noale (VE)

info@cosmogruppo.it
www.cosmogruppo.it