Venue
As one of the distinctive features of the Symposium is the combination of high-level communication with a context that favours networking and socialization, the new venue chosen for SUM 2022 will be the wonderful Capri in Southern Italy.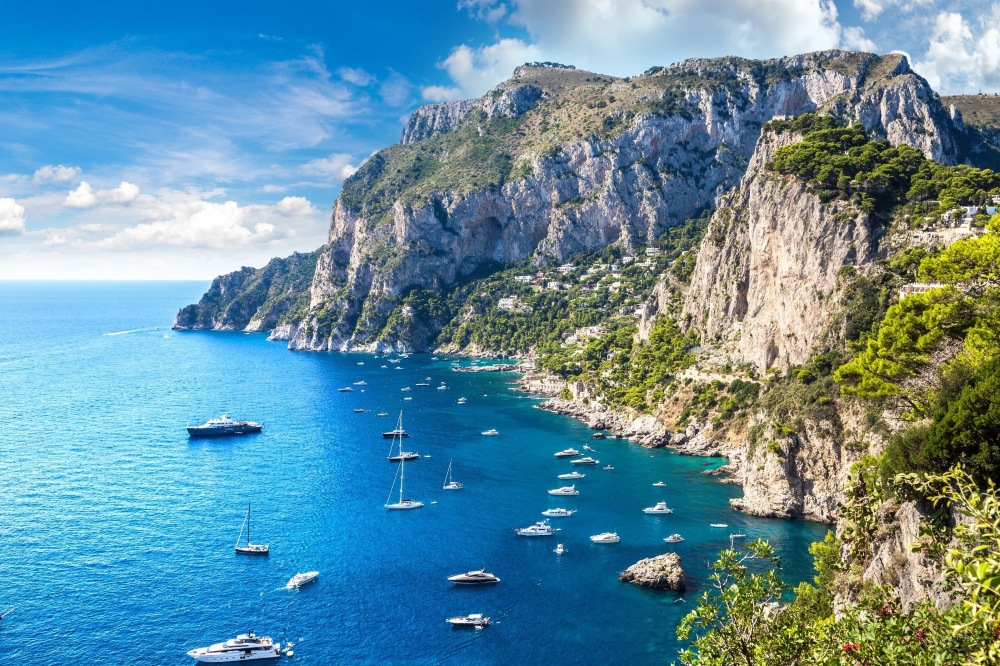 Capri is located in the Tyrrhenian Sea on the south side of the Gulf of Naples in the Campania region of Italy.
The island is connected to the mainland all year round with ferries and hydrofoils that run from Naples, Sorrento, Positano and Amalfi. How to reach Capri >>

The nearest airport is the Naples International Airport (NAP) - also known as Capodichino Airport - that links the city with the main Italian and European airports.

The conference will be held in the Municipal Congress Centre in the heart of the town (Via Sella Orta 3), just a few steps away from the world-famous Piazzetta, the public square in the historic centre of Capri. One parallel session of the conference will be held in the Hotel Syrene (Via Camerelle), a 2-minute walk from the Municipal Congress Centre.

Famous for its wonderful natural beauty, deep-rooted history, mild climate and bright landscape, the island of Capri is a favorite destination for international tourists. Top scenic panoramas include views of the Bay of Naples, the Faraglioni Rocks and the Gardens of Augustus. At the ruined Villa Jovis you can see the remains of the Emperor Tiberius's palace, and also the cliffs over which he is reputed to have had his enemies tossed. Back in Capri town, the 14th-century Certosa di San Giacomo is a handsome old monastery-fortress, now hosting a school and art exhibitions. For shopaholics, Capri town is a dream, with all the big designer names and luxury boutiques. No visit to Capri is complete without a tour around the island by sea, skirting the dramatically craggy coastline and taking in the shimmering caves and hidden coves, like the marvelous Blue Grotto. The bright azure color of the water inside the cave is due to the sunlight which enters the cavern through an underwater opening positioned exactly under the cave's mouth. As the light passes through the water, the red reflections are filtered out and only the blue enter the cave itself. The famous silver reflections of objects in the water are caused by tiny bubbles covering the outside of objects underwater, which causes the light to refract differently than that of the surrounding water and causes this silvery effect.